Lynn: The title of Candy Cooper and Marc Aronson's upcoming book, Poisoned Water: How the Citizens of Flint Michigan Fought for their Lives and Warned the Nation (Bloomsbury, May 2020) nails both the subject matter and the urgency of its subject. This is a horrifying story that will leave every reader not only sickened at what the people of Flint endured but also terrified that a similar situation could or has already happened in their community. Let me be clear here. The water crisis in Flint is not just a story of an already battered and diminished city taking one more horrible blow. The story of Flint's poisoned water is a story that has already been repeated as citizens discover just what is flowing through the pipes in their cities, their homes, and their schools. I want to say at the start that this is a personal story for me. I have family in Flint and we have watched as this appalling situation unfolded. Our family there has dealt with serious health issues, their property values and equity have plummeted, they use filters on every faucet, and purchase expensive bottled water for all cooking and drinking. They have lost all trust in their government. I believe this book is important and it should be read by every person in the nation.
The authors have done a stellar job of laying out the series of events, explaining the interwoven issues, and documenting their reporting. Candy Cooper is a Pulitzer Prize finalist, veteran reporter, winner of the Selden Ring Award for Investigative Reporting, and has written for several newspapers and magazines, including the New York Times and the Detroit Free Press and is the author of nonfiction books for classrooms. Those of us in the youth literature field know of Marc Aronson's outstanding nonfiction books for young people. Marc is the winner of the very first Sibert Award and his excellent and meticulously researched books continue to win national awards.
On April 25, 2014, the mayor of Flint pushed a button that cut off the flow of water from long-time supplier Detroit and started the use of the water taken from the Flint River. It was a decision motivated by politics and budgets. Within days the issues and complaints began. Poisoned Water chronicles the horrifying series of events, bad decisions, cover-ups, and lies that destroyed the water system, health, future, and trust of the citizens of Flint, Michigan. Step by step, Cooper lays out the events, carefully documenting her work. The writing is clear and concise, easy to follow and understand. It is also a compelling account, as impossible to put down as a thriller and twice as horrifying because it actually happened to real people who are still suffering today.
Flint is the canary in the minefield that lies at the heart of urban America. Old water systems, lead pipes, aging infrastructures are everywhere. Cooper and Aronson lay out an extreme series of events concisely, include first-hand accounts from the people involved and pack the book with quotations and documentation. It is impossible not to finish reading the book and not be both outraged and infuriated. Do not miss this important and wonderfully crafted book. It is a critical warning to wake up and smell the coffee—and to seriously question what is in the water used in that coffee.

Cindy: This will be the book that I will be talking about all year and handing to everyone I know. We live in the state where this tragedy unfolded so when we caught up with Marc at our state's school library conference Lynn suggested this topic as an important subject for a future teen nonfiction book. I agreed and am so glad that he and Candy Cooper made it happen. My husband works in wastewater treatment and as the news unfolded he updated me with his rants about what was going on and how wrong it was.  I listened and I had a cursory idea of what was going on, but reading Cooper and Aronson's book was a whole new experience. I couldn't turn the pages fast enough even though I knew the trajectory of the crisis. The book is packed with quotable lines from those who were poisoned, those who poisoned them, and those who didn't think it was important. " Perhaps this quote from a Michigan Department of Health and Human Services nurse to a parent whose young child had lead poisoning from the Flint River water sums up the official response to the water crisis:
"It's just a few IQ points. It's not the end of the world."
Cooper reports that five and half years later "one in five public school children in Flint was eligible for special education, an increase of 56 percent since before the crisis began, according to state figures." It might not be the end of the world to that nurse, but even a little lead in the body can make a huge difference in a child's or adult's life. It's not news that money controls everything and often to the detriment of the public good, but this tragedy that includes an unconscionable amount of harm to the citizens of Flint should cause everyone concern. From big impacts like the government suppressing information about the rising occurrence of Legionnaire's Disease, to the daily problem of finding and hauling bottled water while paying exorbitant water bills for unpotable water, to going without hot water for years because you couldn't afford to replace both your washer and your hot water heater ruined by corrosive water, the story is haunting and might be unbelievable in a dystopian teen no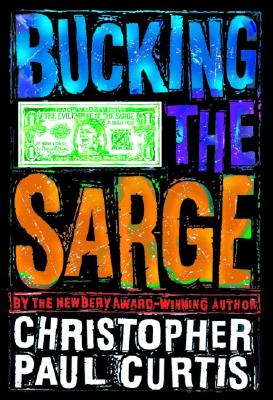 vel. In fact, lead poisoning from paint was featured in the 2004 middle school novel, Bucking the Sarge, by Christopher Paul Curtis, a Flint native. No one knew then what ten years would bring to the city.
I have great admiration for the people of Flint who persisted. Who believed in what they knew to be wrong and who continued to fight against great odds and against a great imbalance of power and influence. Their fight continues. Their fight is one that other communities will have to fight if we are not proactive about our most important resource: water. The hero of the story is citizen action.
Never doubt that a small group of thoughtful,
committed citizens can change the world;
indeed, it's the only thing that ever has. – Margaret Mead