Cindy and Lynn: Here we are announcing our special brand of awards for 2019's youth publications! We're not talking about Newbery, Caldecott, or Printz Awards; we'll leave those to the official committees. We're off to Philadelphia this week for the 2020 ALA Midwinter Meeting and we can't wait to learn who the big winners are, but in the meantime, here are the 2019 Bookends Awards. Envelopes, please! Previous editions of our awards and best of the year lists are archived here.
Cindy's Awards:
The Kindred Spirit Award:
Sweety by Andrea Zuill (Schwartz & Wade, 2019)
This retainer-wearing naked mole-rat and her unique personality won my heart. This is my favorite picture book of 2019, a year of fabulous picture books.
There's More Room for Award Stickers Award: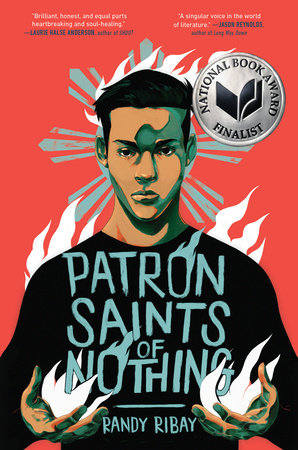 Patron Saints of Nothing by Randy Ribay (Kokila, 2019)
A powerful and eye-opening story set mostly in the Philippines that I want everyone to read.
The Book That Reminded Me That Listening and Practical Experience Can Be a Better Teacher Than Book Learnin':
Panthera Tigris by Sylvain Alzial, illustrated by Hélène Rajcak (Eerdmans, 2019)
A scholar has researched everything about Bengal Tigers, but when he doesn't listen to his guide he gets some "informative" personal experience in the Indian jungle.
The Book That Proves That Not Every Music-Related Picture Book Has to Feature JAZZ:
The Roots of Rap by Carol Boston Weatherford, illustrated by Frank Morrison (Little Bee, 2019)
Yes. YES. This book is informative, gorgeous, and pulsing with beat.
The Book That Reminded Me of My Own Limited Basketball Ability:
Nikki on the Line by Barbara Carroll Roberts (Little, Brown, 2019)
Female sports novels are hard to come by and even harder to find with such good basketball action from the grueling practices to the drama on and off the court. I'm eager for more from this author.
I Didn't Read the Jacket Blurb So I Didn't See It Coming Award:
The Line Tender by Kate Allen (Dutton, 2019)
I'm still verklempt. Count this as a SOB! on my "Sniff, Weep, Sob!" Meter but this heartbreaker is in my top 3 books of the year and it has my favorite cover of the year.
You Can Read to Me Forever Award:
The Secret Commonwealth (Book of Dust, Book 2) by Philip Pullman (Knopf/Listening Library, 2019)
I listen to a lot of audiobooks on my driving commute, but this was my favorite of the year. With Pullman's stellar storytelling and Michael Sheen's narration, I never wanted to stop driving.
Favorite Bird Book From the Year I Became Obsessed with Birding:
Owling by Mark Wilson (Workman, 2019)
I read a lot of youth bird books this year and there were some great ones, like these, and this one, but I learned so much about owls from Mark Wilson giving this one a feather's thickness lead over the others.
Lynn's Awards:
The NOW I Finally Get It Historical Event Award:
Bringing Down a President: The Watergate Scandal by Andrea Balis and Elizabeth Levy (Roaring Brook, 2019)
Even though I lived through this, I was still somewhat confused about what happened when until I read this stellar nonfiction account of the Watergate Scandal. NOW I get it!
The Book That Most Made Me Feel Like a Broken-Hearted Teenager Once Again:
Laura Dean Keeps Breaking Up with Me by Mariko Tamaki (First Second, 2019)
It has been a loooong time since I was a teen but Tamaki absolutely stabbed me in the heart with this book, bringing back the emotions as if they were brand new. Sob!
The Book That Made Me Hungry Every Time I Read it!:

With the Fire on High by Elizabeth Acevedo (HarperCollins, 2019)
Acevedo's writing about food and cooking was so mouth-watering that I was hungry the whole time I read it. Well, her writing was actually evocative about everything in this delicious story.
The Book I Had to Fight My Teen Grandsons For:
The Toll by Neal Shusterman (S&S, 2019)
Let me remind readers that there are TWO of them and they BOTH read it before I got to. Is that grandmotherly sacrifice or what?
The Book That Helped Me Understand Cricket — At Least for a Minute or Two:
Pay Attention, Carter Jones by Gary D. Schmidt (Clarion, 2019)
I really understood cricket while I was reading this  – maybe, sort of, I think so anyway. Well, even if I've forgotten it all, I still loved this book!
The Book that Drove Me to Check My House for Bugs:

The Story That Cannot Be Told by J. Kasper Kramer (S&S/Atheneum, 2019)
This fascinating story based on Romanian history had me checking for bugs—the listening variety—under every surface! Yikes! Young readers need to know this history!
The Book that Nailed the Joy of a First Seaside Vacation:
All the Greys on Greene Street by Laura Tucker (Penguin/Viking, 2019)
There is so much that is stellar in this debut book but Tucker's descriptions of a first experience at the sea during a Long Island vacation made me feel as if I was walking barefoot in the surf for the first time too.
The Book That Surprised Me the Most:
Let 'Er Buck: George Fletcher, the People's Champion by Vaunda Micheaux Nelson (Carolrhoda, 2019)
I'd been on a waitlist for this book for so long that I had forgotten all about it. When it came, it knocked my socks off! WOW, just WOW! Brilliant in every way! Text, illustrations, back matter, and research are all superb!
The Book that Cracks Me Up Just Thinking About It:
Bear Came Along by Richard T. Morris (Little, Brown, 2019)
'Nuff said. This hilarious book just cracks me up every time!