Cindy: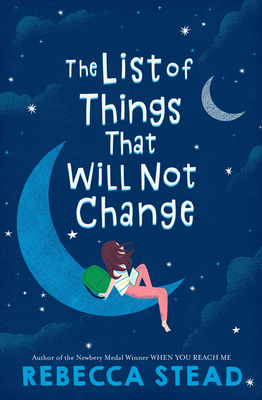 I could make a list of things I admire about Rebecca Stead's writing, but instead, let me tell you about her latest book, The List of Things that Will Not Change (Random/Wendy Lamb, April 2020). Things are changing in Bea's family. Divorce, two houses from which she can see the same moon, and the news that her father is gay. Along with the news comes a notebook started by her parents with a list of things that will not change:
Mom loves you more than anything, always.
Dad loves you more than anything, always.
Mom and Dad love each other, but in a different way
You will always have a home with each of us.
Your homes will never be far apart.
We are still a family, but in a different way.
Throughout the story, as Bea looks back at those early days while her father now prepares to marry Jesse, the man he loves, she adds to her list. The heart of this book is a look at Bea's anxiety and how she learns to cope with it, her longing for a sister that she is sure Jesse's daughter will fulfill, and a secret from the previous summer that is haunting her conscious. The everyday interactions in this blended family are full of wonderful details. For instance, Bea's father owns a restaurant and is a chef but her mother can't cook anything. Bea and her mom yell "Box" when they come home and find a dinner treat left in their fridge by the dad. Stead understands children and gets them right on the page. Bea's insecurities, delights, interactions, etc. are all authentic and readers will each recognize at least a piece of themselves in her. The characters all grow throughout the story, and while there are some hurtful events, they add a realistic note to family dynamics. The list of things that will not change includes my admiration for Rebecca Stead's novels.
Lynn: Cindy and I are both list-makers and there are so many items on my list of what I admire about Rebecca Stead's writing. One of them is the way she puts readers into the minds of middle grade kids. Bea's voice is wonderfully crafted in this story and for the space of 224 pages I was this anxious 12-year-old, dealing with a deeply felt guilt, trying not to scratch at my eczema, balancing my life between two households, and yearning for a sister. Stead writes characters with such authenticity and clarity, beautifully conveying the cares and worries of a youngster. There is a theme too in the story that doing something wrong doesn't make you a bad person—a message that will resonate with so many kids.
Another thing I admire in Stead's books is the way all the plot elements come together seamlessly without a single dropped stitch and that is the case here as well. Stead keeps the plot always under control and that stands out here. It was a real pleasure also to have a story that included so many caring adults, especially her divorced parents who had worked so hard at maintaining a caring relationship and arrangement for their child. Included also was a therapist who helped Bea with her anxiety. It was lovely to have this reassuring picture. Be sure to put this thoughtful, sensitive book on your list!